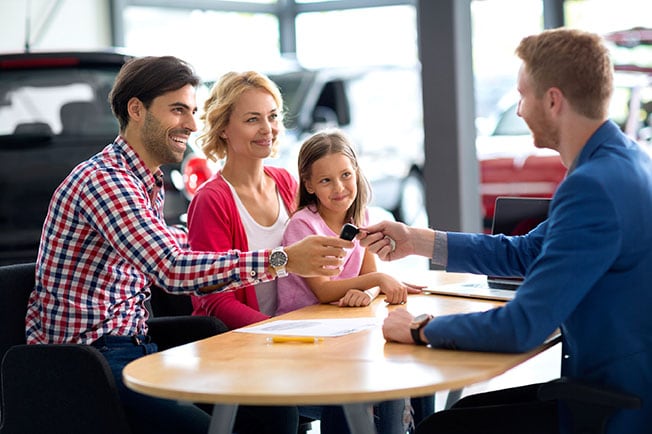 Buy Your Car Online At Serra Saginaw!
Now you can buy or lease your next vehicle online! Get everything done at your convenience. Explore vehicles, financing options, and lease plans - even trade-in your old car. When you're ready, click "PERSONALIZE PAYMENT" or, go as far as you'd like; you can save your progress and come back later or finish at the dealership. We can even bring the car to you for a test drive, at home or work and the paperwork can be also be finish up at your home, work, or at our dealership. There's no deposit necessary and everything is prepared in advance, subject to your approval and satisfactory test drive. We know this process comes with high expectations and we're committed to making sure you're thrilled in every way.
FOLLOW THESE 4 STEPS TO BUY ONLINE
1. Choose Popular Upgrades
After choosing your vehicle, click the "PERSONALIZE PAYMENT" button. You'll be able to select which upgrades fit you and your new car best. Add-ons such as Extended Service Contract, GAP Coverage, Prepaid Maintenance, Michigan Protection Package, and other options are all available to help protect your investment. Once you select your upgrades, press "Continue". Next, you can choose if you want FREE delivery* to your home or work.
2. Trade-In Option
In with the new and out with the old? No problem! If you have a vehicle to trade, fill out the details about your car and hit "Get Estimate". Your trade-in will be evaluated through data provided by Kelley Blue Book for an instant quote which can be applied to your purchase immediately, accept or edit and continue. Or you can select "No trade-in" to move forward. You can also upload photos of your current vehicle.
3. Payment Calculator
This easy calculation tool will let you design your payment. Start with the payment type by choosing "Financing", "Lease", or "Pay Full". After choosing an option, you will be able to scale your Monthly payments, Down payment, Term, and Credit score to an ideal, manageable plan built for you. After you hit "Continue", fill out your personal information including Billing info, Income info, and Credit info. After your details are filled out, you can review your final cart.
4. Review Your Order
For your final step, double-check that your order is 100% correct in regards to your upgrades, total amount financed, and payment plan. Then, sign with your full name and click "Place order"! Your order will be sent to the dealership so we can complete your transaction upon approval! Shortly after, you'll receive a confirmation email with your purchase details.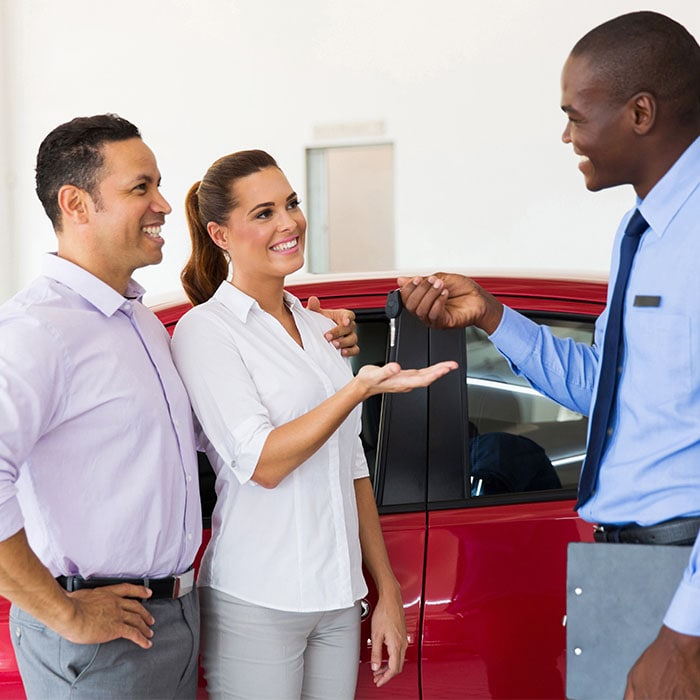 Frequently Asked Questions (FAQ)
If you have a question that is not answered here, please call, email, text, or chat with us and we'll get you an answer promptly.
When can I test drive the vehicle?
You can choose to have the test drive be the first step in your delivery process - or you can have your vehicle brought to you for a test drive in advance. Your purchase is always subject to your approval of both the vehicle and the transaction details.
Pick out the car you want and use the Buy Online shopping cart to make sure it fits your budget. Your completion step will include the option to pick up the vehicle at the dealership or have it delivered to your home or office. Whether you complete your test drive in advance or do it as a final step, you'll always drive the vehicle prior to finishing the delivery process.
Is delivery available if I live or work far away?
Yes - We offer delivery anywhere! Within a 100 mile radius, delivery is FREE. If you live or work outside of our free delivery radius, check with one of our Vehicle Specialists to get a delivery cost. We'll do our very best to accommodate your needs and make sure we meet your expectations.
Am I required to give a deposit or make a down payment to complete my purchase or lease arrangement online?
No. You can complete a purchase or lease arrangement online without money down. Many of our customers choose to do financing or leasing with no money at all. In the event you decide to use a down payment, you can do that at delivery and our staff will guide you through payment options.
How does the trade-in of my old car work?
We use the third-party independent valuation calculator provided by Kelley Blue Book. You'll enter your vehicle info and select "Very Good", "Good" or "Fair" based on the description of each condition. You'll immediately be presented with the actual cash value of your trade-in that you can apply to your vehicle purchase or lease. Prior to delivery - our Vehicle Specialist will confirm your trade-in details. We'll verify the amount owed (if applicable). Our experience has been that our customer's trade descriptions and the calculated values are quite accurate. We'll inspect your vehicle either prior to or at delivery. Our customers are generally good about letting us know of any concerns so that we can make sure the transaction meets expectations. If for any reason the Actual Cash Value offered for your trade-in appears inaccurate or if you have any questions, please let us know and we'll review the details for you. A final trade-in value must always include a vehicle inspection by one of our trained professionals before a final cash value can be reached.
What about financing, rates, and terms?
When you select a credit-score range, you immediately see your payment, rate, and term. We have dozens of lenders and programs that compete for your business. Once submitted, we find an approval that works for you. Buying online doesn't always ensure you're automatically approved, however. Approval is validated by the banks after the specific information you provided is submitted.
How does Home or Work Delivery work?
We'll review all the transaction details with you in advance. You'll know the exact price and terms. Your vehicle, registration, title, and related information will be verified accurately to make sure we get things done right. If there is anything to be resolved prior to delivery, your Vehicle Specialist will follow up and make sure it happens as you expect. You select a date, time and location. Your Vehicle Specialist will inspect your vehicle at the dealership to make sure it's 100% ready for delivery to you. At your home or office, you'll test drive your vehicle. Your Specialist will go over the vehicle and make sure you are comfortable with its features. When satisfied, you and your Specialist will go through the paperwork together with each document explained. Your Specialist will provide a virtual tour/introduction to our service department and we'll book your first service.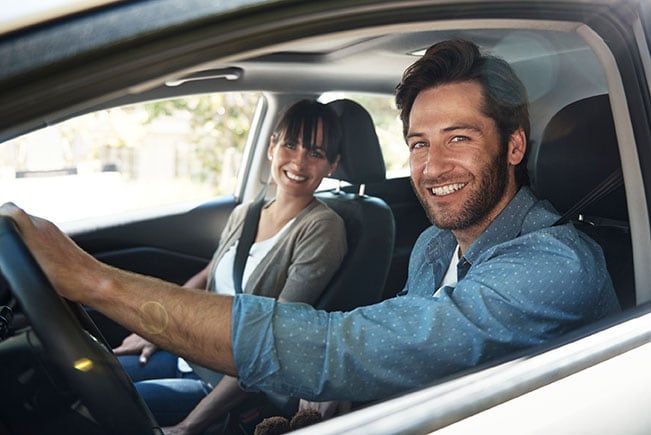 Make an Inquiry
* Indicates a required field